Snacks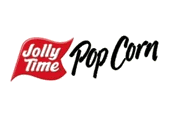 Jolly Time
With more varieties than other brands Jolly Time popcorn offers from super-buttery to 94% fat free Weight Watchers® endorsed microwave popcorn. Try how delicious one of the healthiest snacks around can be…
Popcorners
If you're like most pop corn lovers you whish you have that healthy
and nutritious snack in any shape possible. Here at Popcorners we
have spent a great deal of time tasting, testing and perfecting what
we genuinely believe will be a new generation of popcorn.
Try the new shape of pop corn®.